OPHTHALMIC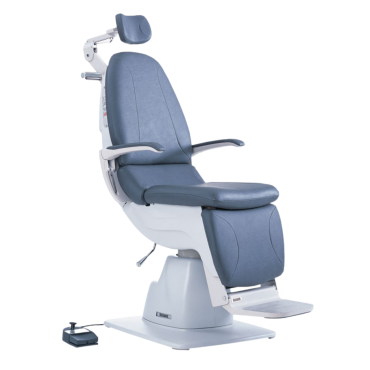 The Reliance FXM 920 Manual Recline Chair features a counterbalanced tilt recline and powered hydraulic lift.   It is a durable, quality chair for medical practices that need to maximize space in exam rooms.
Reliance chairs come with a CSA, C/US Certificate of Compliance.
FEATURES
Dual-side operation
Dual-rotation locks allow you to swivel the chair 350°
Adjustable concave headrest
Curves, upholstered armrests
Large hinged footrest
Effortless manual recline
Powered hydraulic base
Ultra durable membrane switches
HEADREST OPTIONS
Customize your chair with headrests that suit the types of exams and surgeries you perform. Available headrests for this chair include:
No. 18 Concave Fully Adjustable, which is the standard headrest for thismodel, and is used primarily as a diagnostic headrest in ophthalmic and ENT fields
No. 22 Oversized Concave, which is fully adjustable, and primarily used in otolaryngology
SPECIFICATIONS
Choice of 2 base heights: High: 24 3/4" lowered, 35 3/8" raised. Low: 22 1/4" lowered, 30 3/4" raised.
Base: 22 5/16" by 24 1/2"
Width: 25 1/4"
Depth upright (excluding headrest): High: 41"
Reclines: 57"
Seat: 20" wide by 15" deep
Armrest distance: 19"
Shipping weight: 370 bs. Electrical: 110 volts, 60/50 Hz, 6.3 amperes. Optional: 230 volts, 50 Hz, 4.0 amperes.