SURGICAL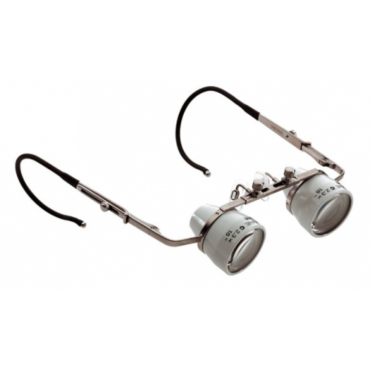 HEINE C 2.3 BINOCULAR LOUPES The cost-effective all-purpose loupe, ideal for dental laboratories and general medical examination. Crisp, clear imagesMulti-coated, scratch-resistant silica glass lenses produce crisp, clear images. Flexibility for precise adjustmentIndependently adjustable PD controls ensure precise alignment of the optics. Super lightweight and comfortable only 46 g
Flexible coil temples wrap-around to fit the user's anatomy securely and comfortably. Spring-loaded temples will adjust to the user's anatomy. Lightweight metal frame. The ideal all-purpose loupeThe feather-light weight, low-profile design and low cost of the C 2.3 loupe make it the ideal all-purpose loupe.
FEATURES
High magnification and sharp, crisp images with powerful LED illumination
HEINE binocular loupes set a benchmark for design, hightech materials and precise manufacturing methods. They provide exceptional image quality and edge-to-edge definition and a large field of view.
Various magnifications (from 2.3 x to 6 x), working distances, wearing modes (unique S-FRAME, Lightweight Headband and Headband Professional L) and LED Loupe Light illumination systems are available.
They provide homogeneous, reflex-free illumination even in deep cavities. State-of-the-art LED technology and design! HEINE Binocular Loupes are used in many disciplines: e.g. General Medicine, Dermatology, Surgery, Cosmetic Surgery, Neurosurgery, ENT, Ophthalmology, Veterinary Medicine, Dentistry etc.