OPHTHALMIC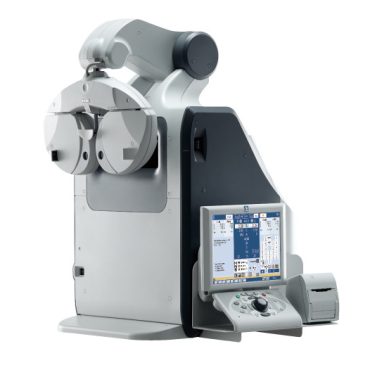 The TS-610 is versatile with a compact 2? x 2? footprint that can easily be installed anywhere. The forehead rest range of 25?2 mm can accommodate more patients. Flexible measurements can be taken from either side for seated or standing patients.
FEATURES
Selectable and intuitive manual operation Manual measurement using the large, durable 7.0-inch touch screen is also possible with the ARK-F/AR-F. Alignment is easily achieved by simply long-pressing a position on the screen and an icon. Clearly identifiable icons assure intuitive operation. Moreover, a newly designed hand-held control and tablet control software are available as options that increase operator freedom and productivity.
Large pupil zone imaging method The large pupil zone imaging method enables the measurement of wider area refraction up to 6 mm diameter and can indicate the difference between the wide area refraction and central area refraction of up to 3.5 mm diameter.
Super luminescent diode and highly sensitive CCD Incorporation of the super luminescent diode (SLD) provides a sharper and clearer image compared to a conventional LED. The highly sensitive CCD detects the ring image even if the fundus reflection is weak.
Keratometry measurement with mire ring (available for the ARK‐F) The mire ring is used to measure keratometry. It reduces eyelid artifacts.