OPHTHALMIC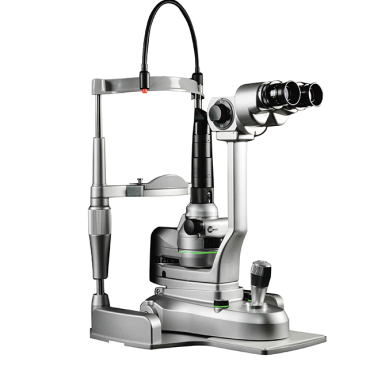 The Marco Ultra M2 slit lamp was designed with functionality, comfort, and durability in mind. The sophisticated, cable-free design features Galilean/parallel optics and 3-step magnification (10x, 16x, 25x). Additionally, an extended aperture diameter allows for a wider field of view.
Single-element LED illumination provides unbeatable clarity, and the fully-integrated background illumination makes the Ultra M2 an affordable option for slit lamp imaging.
FEATURES
LED Illumination – The new LED illumination, with a color temperature of 3500 K, allows greater visibility and clarity of anatomy and tissue structure, with brighter and sharper light. A single element, high-luminance LED provides a beautifully consistent and uniform light compared to multiple element LEDs.
3 Power Optics – The M2 features 3-power Parallel / Galilean optics. The aperture diameter of the slit length has been extended, from 10mm to 14mm (continuously variable from 0-14mm), allowing a wider area of anterior segment illumination and also a wider field of view.
Cable Free Design – The Ultra M Slit Lamps are neat and compact with no exposed wiring, giving them a noticeably sleek and stylish appearance. Contemporary and durable finishes have been selected both for lasting application and patient appeal.
Self Contained Headrest – A self-contained headrest & baseplate assembly with a comfortable expanded chin rest design for easier patient access.