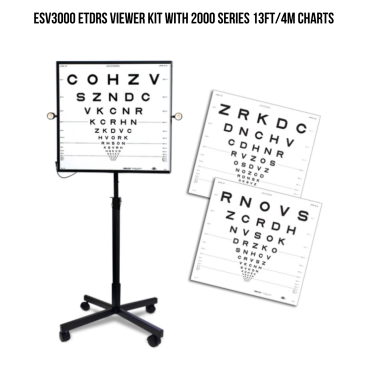 ESV3000 ETDRS VIEWER KIT WITH 2000 SERIES 13FT/4M CHARTS AND FLOOR STAND
The ESV3000 ETDRS, Illuminated Cabinet contains patented internal calibration technology which automatically controls the standardized LEDs (light-emitting diodes) output. This device is specifically designed for the rigorous lighting standards needed for clinical trials and vision research. When this lighting technology is combined with a universal standard power supply, the result is consistent standardized lighting that makes the ESV3000 the most accurate, easy-to-use tester evaluating ETDRS, and LogMAR acuity during research. Simply turn on the device and with a push of a button, the ESV3000 automatically calibrates to a photopic light level of 85 cd/m2 or a mesopic level of 3 cd/m2. These light levels are recommended by the Committee from the National Academy of Sciences for Vision Testing Standards and are required by the FDA for ETDRS, evaluation in clinical trials. Unlike previous illuminator cabinets which use "out-of-date" fluorescent bulbs, there is no warm-up period and no requirement to replace the light source. The old fluorescent light bulbs have to be replaced every 2,000 hours, or once a year, and new bulbs have to be "burned in" before use. For the ESV3000, the LEDs last up to 20+ years of normal use, never need replacement, and require no burn-in period. Just plug in the ESV and it is ready to test.
For use outside the US, the ESV3000 has a universal power supply that is easily adapted to 100V to 240V, unlike cabinets that use fluorescent bulbs, which require the use of 110V input voltage.
The ESV has a convenient storage cabinet for the safekeeping of additional charts when not in use.
The ESV3000 Features
Standardized ETDRS, testing with 3 preset luminance levels at 3, 85, and 160 cd/m2
Self calibrating technology
Universal power supply*
Optional adjustable glare lights available
Controlled by infrared wireless remote. Chart storage in the back. Compatible with all existing high Contrast (black) ETDRS, charts

Chart storage in the back. Compatible with all existing high Contrast (black) ETDRS, charts

NEI and FDA Approved
This kit includes
ESV3000 ETDRS, Viewer
3 2000 Series Charts: Chart 1, Chart 2 & Chart 3 for 13 feet/4 meters testing distance
Floor Stand with casters
* Power plug adaptor may be needed for outlets outside the United States.
Dimensions: Height 24.75″ x Width 25.625″ x Depth 3.75″ (62.86 cm x 65.09 cm x 9.53 cm).
CE and CSA listed.