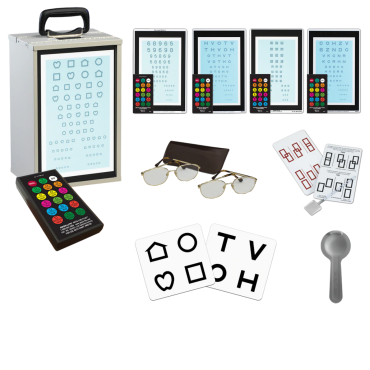 All LED Insta-Line Quantum cabinets use light-emitting diodes (LED) to provide uniform illumination for standardized testing. The increased efficiency of the bulbs and the rechargeable battery (included) permit testing in almost any location. Controlled by a radio frequency (RF) wireless remote. A power pack is included for recharging and use of the unit with or without the battery.
One person can administer a complete series of vision tests in less than 2 minutes. Ideal for ages 3 years through adulthood. Used for testing visual acuity at 10 feet and for assessing muscle imbalance.
The Complete LED Insta-Line Quantum includes:
LED Insta-Line Quantum
RCD Wireless Remote
LEA SYMBOLS®

 

Test Set with RCD overlay
LEA NUMBERS®

 

Chart with RCD overlay
E and C Charts, Chart with RCD overlay
Sloan Letter Chart with RCD overlay
HOTV Test Set with RCD overlay
Occluder
+1.75 and +2.50 hyperopia glasses
Muscle Imbalance Test
Combination LEA SYMBOLS®

 

& HOTV response panel
Completely self-contained and weighs only 10 lbs.
Dimensions: Height 14.5″ x Width 9.25″ x Depth 5″ (36.83 cm x 23.5 cm x 12.7 cm).