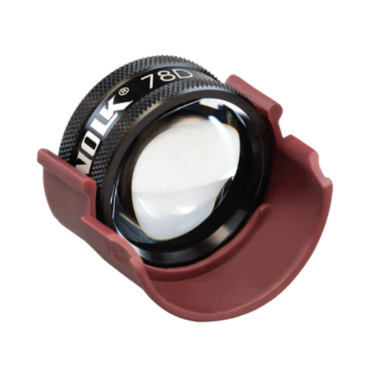 FOR EFFICIENT EXAMS
As facemasks became commonplace with COVID-19, the inconvenience of fogging lenses came with it, compromising your view and slowing down your fundus exams.
The ClearPod diverts fog away from your lens surface giving you ample time to conduct detailed exams without having to interrupt care.
FEATURES:
LIFT THE FOG: The unique shield has carefully designed wing and flange features to efficiently direct warm currents of air away from your optical path.
JUST CLIP AND GO: Optimized shape and fit allows you to securely clip your lens while enabling you to maintain your natural grip.
THE PERFECT FIT, EVERYTIME: The ledge on the inside of your ClearPod is designed to act as a back-stop to guide your lens into the right position.
ELEGANT AND ERGONOMIC: The flange is designed to balance optimal fog diversion while accommodating the right working distance.
The below fundus exams were performed on the same mask-wearing patient within minutes of each other. The ClearPod provides an uninterrupted clear view of the retina for a complete exam. Without the ClearPod attached, fogging occurs almost instantly, causing inconvenience to both the doctor and patient.