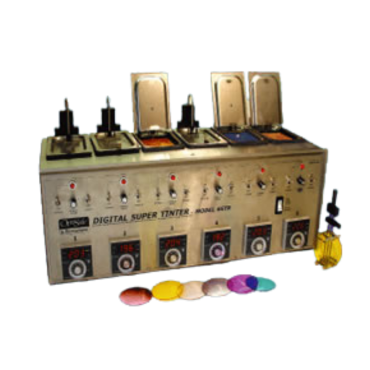 The system is designed with the production lab in mind, heating up to six different colors at one time with each color independently controlled with it's own temperature controller and variable speed stirrer. Each tank incorporates a temperature probe to directly reflect the corresponding dye temperature accurately through a digital read-out. The 6STR requires a very low HTF content of only 15 ounces (443ml) per tank. The HTF used in the 6STR system is a water soluble, environmentally safe, non-hazardous blend. The unique design makes it virtually impossible to contaminate the HTF.
FEATURES:
Faster tinting, with better color shade consistency.

Automatic variable speed stirrer.

Accurate digital temperature control, with detachable temperature probe.

Nonstick tank for easy cleaning.

No boil-over.

Lid position will not affect the temperature.

Stainless steel construction.

Unique energy saving design.

SPECIFICATIONS: 
Maximum Power Consumption: 1800 Watts

Power Requirement: 120 VAC, 60Hz. 230 VAC, 50Hz. (Optional)

Body: All Stainless Steel Construction

Stirring: Magnetic Stirrer

Temp. Range: 32° – 212°F (+/- 1.5°F)

Temperature Control: Solid State Digital Temperature Controllers Dimensions: 28 x 11 x 13 in. (lid down), 15″ (lid up)

Overheat Protection: Automatic