EDGING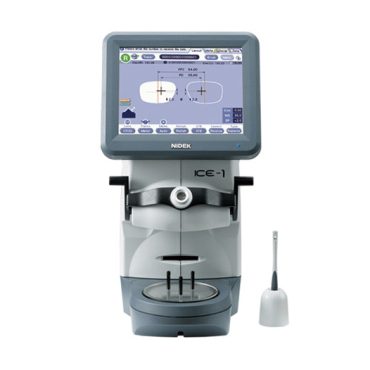 The ICE-1 is an easy-to-use intelligent blocker with consistent accuracy and stability in blocking.
As developed with emphasis on usability, this instrument offers operators a remarkably comfortable experience.
Various editing functions that realize customer's demands can be used intuitively on the screen. With comfortable operation using a stylus pen and numeric keys, hole and lens shape can be edited as easily as anyone could expect.
FEATURES
Sensible mechanical design allows the operator to confirm lens shape and data images simultaneously.
A large 8.4-inch color LCD touch screen shows lens shape and layout information in real scale with high visibility contrast
The storage space for accessories is designed to enable easy storage and accessibility.
One touch blocking A single finger is all that is required for the ICE-1 blocking. The blocking motion is accurate, quick, and comfortable without needing extra pressure or effort. Two types of lens tables are provided, standard and mini-size. Flexible lens stage (optional)
The flexible lens stage oscillates, keeping the front base curve of the lens at the optimal horizontal position. The stabilized lens position reduces the gap and prevents sliding or movement of the lens. Shape imager function The shape imager function can detect the outer shape of a demo lens or pattern
Hole & Design edit function with an easy-to-understand display and comfortable operation using a stylus pen and numeric keys, hole and lens shape can be edited as easily as anyone could expect