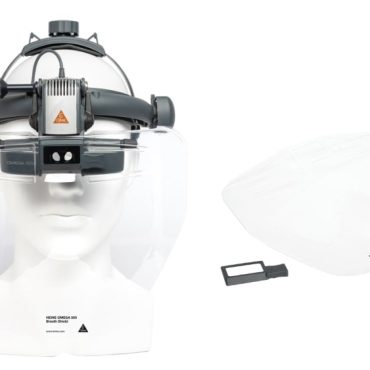 For a clear view during examinations.
Attach breath shields to ophthalmic devices to reduce the potential risk of infection. 
While the HEINE Breath Shield protects part of the wearer's face from exposure to some things, it does not provide a complete shield to protect against contact with infectious airborne droplets. Additional protective equipment must be worn!
The Breath Shield, developed exclusively for the HEINE OMEGA 500 Binocular Indirect Ophthalmoscope, covers the mouth, nose and chin area.
Outstanding view through the ophthalmoscope thanks to a cut-out on the optics
Lightweight, rigid material for a comfortable fit
Easy to attach to the instrument
Comfortable working – there is no contact between the wearer's nose and the Breath Shield, and all the controls on the ophthalmoscope are freely accessible.
The OMEGA 500 with the Breath Shield attached can be charged directly on the EN 50 UNPLUGGED wall-mounted charging station.
Cleaning and disinfection instructions
Breath Shields are consumables.